Home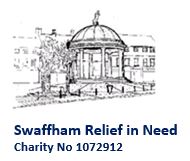 Swaffham RELIEF IN NEED
The Charity was established to provide assistance to residents of Swaffham who at times find themselves in need of help.
WHY DO I NEED HELP? Life can bring unexpected difficulties, which can cause real distress to people who have always considered themselves to be independent and self-sufficient. This might be because of any number of things, actions or circumstance such as:
losing your job / becoming disabled or too ill to work / attempting to stay in your own home rather than go into hospital or a residential home / kitchen appliances breaking down / savings are too little to meet replacements / being re-housed but have no furniture or household equipment / returning to work after a long gap with no savings to buy clothes etc
These are just a few examples of the difficult situations people can find themselves in.
Please complete an application and return this to us by email - [email protected] or by post Swaffham Relief in Need, Hannah Duggan, Charity Administrator, 4 London Street, Swaffham PE37 7DQ
Your completed application will be added to the agenda for the next available Relief in Need meeting and you will be contacted shortly thereafter with their decision.
The Charity meets regularly throughout the year to look at applications for help.